The Nuclear Advanced Manufacturing Research Centre and leading engineering consultancy Atkins have signed a memorandum of understanding (MOU) to work together on nuclear industry research & development and on support and training for the UK's civil nuclear supply chain.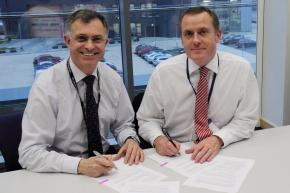 The MOU was signed by Mike Tynan, chief executive of the Nuclear AMRC, and Chris Ball, managing director for nuclear at Atkins. It confirms that the two organisations will work together for mutual benefit in areas relating to nuclear research & development, UK civil nuclear supply chain development, and the provision of effective support to the UK civil nuclear industry. Both groups will contribute expertise, experience and knowhow to their shared aims.
Atkins commits to being an active supporter of the Nuclear AMRC, including joint reviews of opportunities for UK suppliers in nuclear new build, decommissioning and operations, and will seek to identify opportunities for the Nuclear AMRC to add value to Atkins' delivery of commercial work.
The Nuclear AMRC will involve Atkins in key areas of its manufacturing R&D including small modular and micro reactors, fuel cycle and waste treatment/management activities. The Nuclear AMRC has also signed a new collaborative agreement with small modular reactor developer NuScale.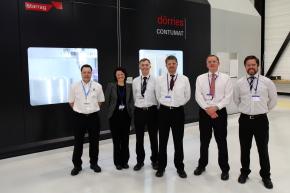 Mike Tynan, Nuclear AMRC chief executive, commented: "I am delighted to sign a collaboration agreement with Atkins, a successful, experienced and innovative company in the global civil nuclear marketplace. Both of our organisations are committed to excellence in the nuclear industry and are determined to drive a new era of civil nuclear power for the UK. We share a particular interest in the development of the UK civil nuclear supply chain, skills for the future and economic value for the UK through the creation of value in the civil nuclear programme. I look forward to working with Chris Ball and his nuclear team at Atkins."
Chris Ball, managing director of Atkins' nuclear business, said: "Atkins and the Nuclear AMRC share the spirit of innovation, collaboration and excellence, and we are looking forward to working together. This is a very exciting time for the nuclear industry in the UK and internationally, and by working closely on pioneering projects with partners like Nuclear AMRC, we're making a real difference to civil nuclear power in the UK."
Atkins is one of the world's leading design, engineering and project management consultancies, employing some 17,400 people across the UK, North America, Middle East, Asia Pacific and Europe. Nuclear energy sector projects include:
UK nuclear generation – part of the Strategic Supply Chain Partnership for EDF Energy's Nuclear Generation business providing additional expert engineering support as the company seeks to extend the life of its existing nuclear AGR fleet.
UK new nuclear programme – working collaboratively with Horizon Nuclear Power providing engineering and related technical services for a new generation of nuclear power stations at Wylfa Newydd on Anglesey and Oldbury in Gloucestershire.
Nuclear decommissioning – currently preferred bidder on a new contract with Sellafield Ltd for its Silos Direct-encapsulation Plant (SDP) project in the UK, as part of an equal three-way joint venture with Areva and Mace (a.m.a.).
UAE's peaceful nuclear new build programme – providing technical assurance to lenders backing the United Arab Emirates' most ambitious energy infrastructure projects.