The Nuclear Advanced Manufacturing Research Centre has opened its new modular manufacturing R&D centre, at the Birkenhead site of member company Cammell Laird.
The launch marks the start of a research collaboration led by Cammell Laird to develop modular manufacturing techniques to support the UK's nuclear new build programme.
The Nuclear AMRC, part of the UK's High Value Manufacturing Catapult, works with UK manufacturers of all sizes to help them win work in the nuclear power sector. Its research factory on the Advanced Manufacturing Park in South Yorkshire is home to over £30 million worth of state-of-the-art machining, welding and inspection facilities, all of which are available for companies to use in collaborative R&D projects.
The new facility expands the Nuclear AMRC's capabilities into modular manufacturing. Modular manufacturing involves the off-site assembly of large-scale complex systems, which are then transported to site for final installation.
Modular techniques are already widely used in shipbuilding, aerospace and other safety-critical industries. In the nuclear sector, they can significantly reduce construction risk and help deliver new power stations to schedule and cost.
The Nuclear AMRC Birkenhead facility was officially opened on Tuesday 4 July, with a launch event attended by around 50 industry delegates.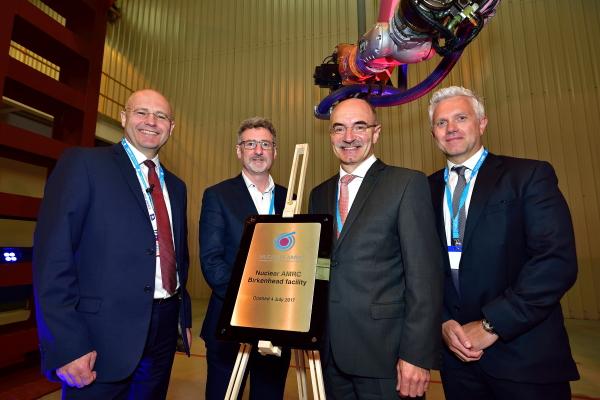 The event featured presentations from (L-R) Jonathan Brown, managing director for energy at Cammell Laird; Craig Lester, executive director for nuclear strategy at BEIS; Dick Elsy, chief executive officer for the High Value Manufacturing Catapult; and Andrew Storer, managing director of the Nuclear AMRC.
With over 1,000m2 of workshop space, the new facility will host specialised machining, joining and assembly equipment to develop and prove modular manufacturing techniques for nuclear applications. Work will address modular manufacturing for new reactors of all sizes, as well as the challenges of decommissioning and waste management.
Andrew Storer, managing director of the Nuclear AMRC, said: "Our new Birkenhead facility extends our capabilities into an area of huge interest and importance to the nuclear industry. Modularisation reduces risk in manufacturing and construction, and will help developers build new power stations on schedule and on budget, meeting our national targets for secure, cost-effective, low-carbon electricity generation.
"The manufacturing techniques we will develop at the new facility can also help improve production efficiency and costs in other parts of the nuclear market, for example in the manufacture of large numbers of standardised waste boxes for the decommissioning programme.

"Our Birkenhead facility is the first of a new network of regional supply chain hubs, which will help us provide on-the-ground support to companies of all sizes across the UK. Birkenhead is ideally placed for the established nuclear cluster in North West England as well as the Wylfa new build site in North Wales. We want to help companies based in this region to become Fit For Nuclear and win work in the nuclear sector at home and worldwide."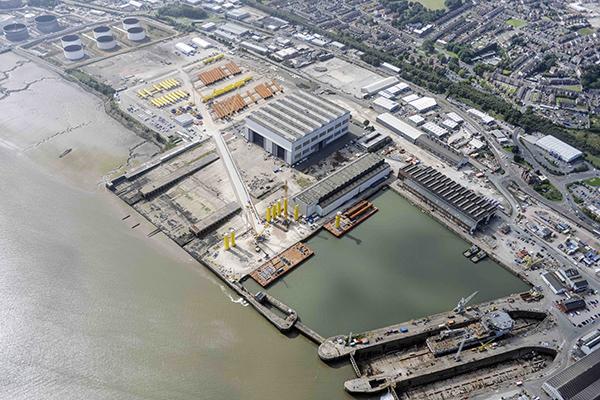 The Nuclear AMRC Birkenhead facility is hosted by Cammell Laird, which joined the Nuclear AMRC as a tier one member earlier this year. Cammell Laird's 120-acre site on the Mersey features four dry docks, a non-tidal wet basin, a large modular construction hall and extensive covered workshops. The company has been involved with the UK's nuclear sector for a number of years, and is positioning itself as a world-leading hub of modular manufacturing expertise.
Cammell Laird is now leading a new research project with funding from the Department of Business, Energy & Industrial Strategy (BEIS) through the Small Business Research Initiative (SBRI).
The project, called Fit For Modules, aims to develop the UK supply chain into a world-leading provider of modular manufacturing techniques for nuclear and other high-value energy sectors. The research consortium – including the Nuclear AMRC, Laing O'Rourke, Arup and Frazer-Nash Consultancy – will work with industry and regulators to map the challenges and opportunities of modularisation.
Jonathan Brown, managing director of Cammell Laird's energy division, said: "Modularisation is widely applied on shipbuilding, civil construction and a number of other sectors where it is demonstrated to bring significant benefits in terms of cost reductions and improved schedule performance. We are confident that when applied correctly within the nuclear sector we will see similar benefits."
The first stage of the project will produce a detailed study showing how the development of modular techniques can support the UK's nuclear new build programme, and identifying what research and investment are needed to turn the UK into the world leader in off-site modular construction for the nuclear industry.
Immediately after the launch event, Cammell Laird hosted a two-day industry workshop to discuss modularisation challenges associated with process and methods, technologies and techniques, and people and culture. The project will also consider financial and supply chain issues around modularisation.
At the end of the first year-long phase, the consortium will publish a technology roadmap detailing how the required technologies and capabilities can be developed over the next five years. The report will be shared with industry, including the 120+ manufacturers who have completed the Nuclear AMRC's Fit For Nuclear (F4N) supplier development programme.