The Nuclear AMRC is working with Sheffield-based software company BOW to develop robotic systems for the safe decommissioning of legacy nuclear sites.
BOW, formerly known as Cyberselves, has developed a single software solution that can control any robot and can be extended to cover a wide range of scenarios. The company has now secured funding to develop systems for tackling the safety requirements and specialist needs of nuclear decommissioning tasks which are potentially hazardous to human operators.
The TEL-ND project involves telexistence technology, which uses cameras, sensors, and other equipment to provide feedback to the system's operator, so that they feel like they are actually there in the remote location.
"We are taking human expertise and transporting it into a robot in real time to make the experience safer for people, building on work we've already led on in explosives disposal in hazardous underwater environments," said Daniel Camilleri, founder and chief executive of BOW. "Our software can control many different types of hardware, which means we can use off-the-shelf components for these systems, making them easier to replace and keeping costs down."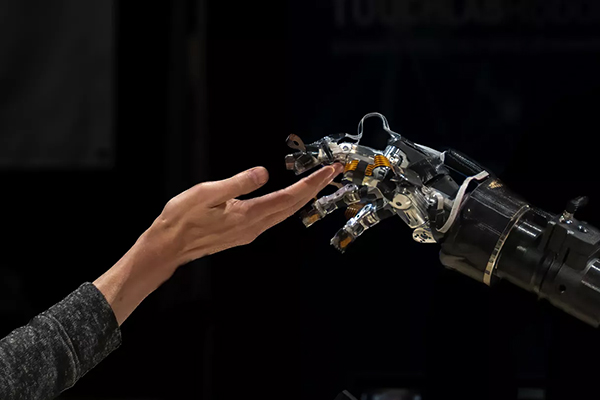 Nuclear AMRC researchers will work closely with BOW and other project partners to ensure that the technology is meeting the needs of decommissioning clients.
The Nuclear Decommissioning Authority (NDA) has set out its ambition to move humans away from harm. This will include the remote decommissioning of contaminated gloveboxes – specialist equipment used to inspect, handle or repackage nuclear materials – by 2025.
"The Nuclear AMRC has extensive knowledge in the nuclear decommissioning industry, and we have previously worked with NDA's subsidiaries on projects related to the glovebox applications," said technical lead Benjamin Rae. "We're pleased to have this opportunity to work with our partners to develop a telexistence platform for removing the possible contamination hazard to the human operator.
"The higher technology readiness level system will demonstrate the safer, secure environment for decommissioning operation, while improving productivity."
Other partners for the project include Touchlab, an Edinburgh-based firm which has created touch-sensitive artificial skin for robots, and Kent-based three-dimensional vision technology developer i3D Robotics.
The project aims to use PAL Robotics' TiagoOmni++ robot fitted with a gripper and with a Schunk SVH human-style hand covered in Touchlab's artificial skin. The robot will use i3D's radiation-resistant cameras, while the operator will use an off-the-shelf virtual reality headset combined with a cutting edge cockpit to completely immerse the user with the robot.
BOW, a spin out from the Sheffield Robotics collaboration between the University of Sheffield and Sheffield Hallam University, has also secured funding for a related project to adapt the same technology for assessing a patient's injuries on the battlefield or other hazardous environments and providing first-aid treatment.
The two contracts are together worth £550,000 and were awarded through the Defence & Security Accelerator (DASA), with funding from the Defence Science & Technology Laboratory and the NDA.