Companies can now register interest in the next evolutionary phase of Fit For Nuclear, with added services for participating companies and a new subscription-based operating model.
Since its launch in 2011, Fit For Nuclear (F4N) has helped hundreds of manufacturers and suppliers across the UK to test and develop their capabilities to serve the nuclear market.
But just as companies can't stand still in a constantly changing marketplace, the F4N programme is evolving to ensure that it is fit for the future.
Over the past year, the Nuclear AMRC's supply chain specialists have reviewed the programme, consulting with companies at all tiers to understand what they need to create a resilient and competitive UK supply chain. Alongside that consultation, the team have analysed the future requirements of nuclear programmes across new build, reactor development, decommissioning and submarines.
"Our mission as a centre remains to maximise UK content in high-value engineered products for UK nuclear projects," says Liz Gregory, Nuclear AMRC director for supply chain and skills. "To do this, we need a value-adding supply chain programme, supported by the government, developers and prime contractors. We want to increase the scope and scale of the F4N programme, broadening out the offering with new services, courses, and events, and bringing more companies into the sector."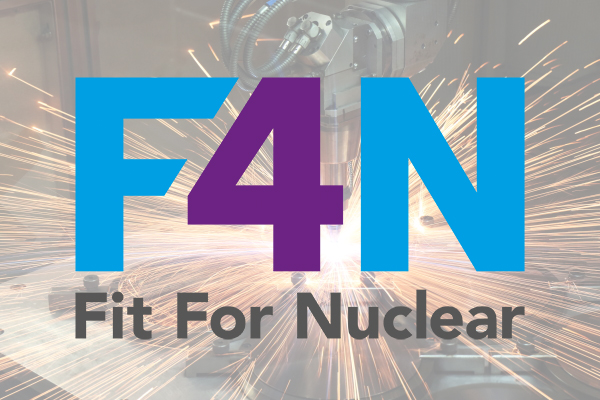 Extra value
The new phase of F4N will continue to deliver the core areas of business excellence and sector-specific assessment and improvement, with new upgraded nuclear elements. To provide additional value and support, it will also provide a range of new events, services and training.
Events will be exclusively for companies on the F4N programme, and offer the opportunity to engage with customers and decision-makers. Topics will include supply chain and manufacturing challenges, skills requirements and gaps, competitiveness and opportunities for improvement – covering common issues across the sector as well as specific components and systems.
Participating companies will also be invited to join round-table discussions with nuclear primes and other key players, and regional networking and knowledge-sharing events with industry peers.
"The round tables will promote working across the supply chain tiers, focusing on key challenges and promoting collaboration to ensure the supply chain works more efficiently," Gregory notes. "This is particularly important when considering the multiple needs of civil, defence, decommissioning and fusion sectors."
Companies can access a suite of targeted services to help them secure work with nuclear customers, including signposting to opportunities and tenders, and access to UK supply chain benchmarking data.
"The sector can be confusing to navigate, but our intention will be to provide a direct line of sight to business opportunities," Gregory says.
Companies can also benefit from help in understanding relevant codes and standards, including support for companies preparing to qualify for the nuclear-specific ISO 19443 quality management standard.
The Nuclear AMRC's team of industrial advisors will lead deep dives into various areas of business excellence, and share sector information and news.
The third leg of the expanded F4N programme involves a range of courses to increase knowledge and understanding of nuclear sector topics, delivered with industry-leading training partners.
New ways of working
One big change to the way that F4N operates is that the programme will now be run on a cohort basis – a number of companies will start their F4N journey at the same time, and encouraged to share good practice and lessons as they progress together.
This cohort model has already proven its worth in the Fit For Offshore Renewables programme, an ongoing collaboration between the Nuclear AMRC and the Offshore Renewable Energy Catapult, as well as the Fit For Hydrogen & CCUS pilot managed on behalf of the Zero Carbon Humber Partnership.
"We've designed this new approach to F4N to increase company-to-company engagement and foster supply chain co-operation," says Gregory. "The cohort model has been successful on Fit For programmes in other energy sectors, as it gets companies talking and working together across the supply chain."
Companies are now being invited to register interest in joining the first cohort of 25, to start their F4N journey in April.
To ensure the expanded programme is self-sustaining, F4N is moving to a subscription model. Participating companies will pay a flat fee to cover assessment and support from their industrial advisor on the road to granting, which typically takes 12 to 18 months. The subscription will include access to all events and other services, with additional training courses offered on a pay-as-you-learn basis.
After granting, companies can maintain granted status with regular visits from their industrial advisor and access to all the additional services, for an annual subscription. There will be no additional fee for re-granting after the usual three years.
Companies which are already on their F4N journey will continue to granting under the established programme, at no cost to themselves. Granted companies approaching re-assessment have been contacted by their industrial advisor about their next steps.