The Nuclear AMRC is helping Halifax-based Fan Systems Group to introduce new automated welding technologies which will ensure the quality of safety-critical fabrications for customers across the energy sector.
Fan Systems, part of Witt UK, is a leader in the manufacture of high quality industrial fans for nuclear and defence, with units operating around the world.
The company previously worked with the Nuclear AMRC through the Fit For Nuclear programme to develop its capabilities for the nuclear new build and decommissioning markets, and is now aiming to become the premier manufacturer of high-value, high-specification fans for a range of energy sectors.
Fan Systems recently won a significant contract from a civil nuclear client, with the potential for additional work if the company delivers a high standard of safety-critical welds.
"The automatic welding solution piloted with the Nuclear AMRC will give our customers great confidence in our ability to consistently deliver a high quality product," says executive director Tim Barnes. "This is particularly important for customers with rigorous welding requirements, such as in the nuclear sector, where getting it right first time is critical to encouraging future business."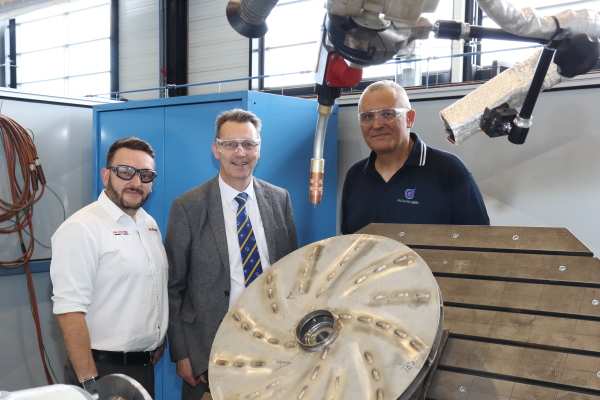 The new technical collaboration is funded through the national Knowledge Transfer Partnerships (KTP) programme, and will embed automated welding techniques which can consistently produce joins to a specified standard. The introduction of automated welding processes is believed to be a first for the UK fan manufacturing sector, and will help ensure that Fan Systems can meet the demands of long-term contracts for high-value fabrications.
The project will be overseen by Nuclear AMRC senior welding technician Billy Armstrong, who is responsible for the centre's own robotic arc welding facilities.
"I am uniquely positioned to guide Fan Systems in this transition," Armstrong says. "I started my career in manual manufacturing, and have spent many years transitioning to become proficient in automated manufacturing. I will use the knowledge and experience I have gained through my own journey to guide and mentor the stakeholders within this project, allowing them to gain the relevant skills and knowledge."
There are three main challenges to the project, Armstrong notes: understanding what industrial robotic systems are available and how these will interact with Fan Systems' current facility; understanding how current production needs to change to facilitate the integration of robotic technology with minimal disruption; and ensuring the factory and workers can adapt to the increasing use of digital technologies.
The Nuclear AMRC is recruiting a postgraduate KTP associate who, under Armstrong's guidance, will work closely with the Fan Systems team to tailor and embed the technology at the company's Halifax factory. Following the two-year project, the associate is expected to remain with Fan Systems to lead automation projects across other manufacturing processes.
The KTP programme is funded by Innovate UK, and is designed to help businesses improve their competitiveness and productivity through the better use of knowledge, technology and skills from the UK's research base.
"KTPs are a great way for manufacturers to draw on the expertise and innovation available at the Nuclear AMRC and other specialist research centres," says Helen Arthur, collaborative R&D lead at the Nuclear AMRC. "It's very suitable for companies which have gone through Fit For Nuclear or our other supply chain programmes to develop their business capabilities, and are now looking for the technical edge to help them win work."