A new research collaboration is developing a lubrication system for environmentally-friendly machining, which uses an innovative ultrasonic technology to precisely deliver a tiny quantity of oil to the cutting zone.
Manufacturers will be able to retrofit the new system to their current machining platforms, allowing smaller businesses to reduce costs and environmental impact without having to invest in new machines.
The £1.35 million UltraMQL project is led by Derbyshire-based machining specialist Kugel Rotary Services, and funded by Innovate UK through its Smart Grant programme.
Research partners include international machining fluid provider Quaker Houghton, Derby-based digital visualisation and immersive technology specialist Bloc Digital, the University of Sheffield's Nuclear Advanced Manufacturing Research Centre, and the University of Brighton's Advanced Engineering Centre.
"Lubrication is a critical factor for successful chip formation during metal cutting processes," says Stuart Vere, managing director of Kugel Rotary Services. "Insufficient lubricant as well as excessive lubricant can have a detrimental effect on quality, cost and time and have an adverse impact on the environment. Just like other flexible variables such as speeds and feeds, the application of lubrication should also be optimised to ensure the best results whilst keeping overall oil contamination to a minimum.
"The introduction of UltraMQL will significantly reduce overall oil volumes and at the same time allow that all-important additional element of control, hence alleviating the challenges faced when using and maintaining alternative lubrication methods."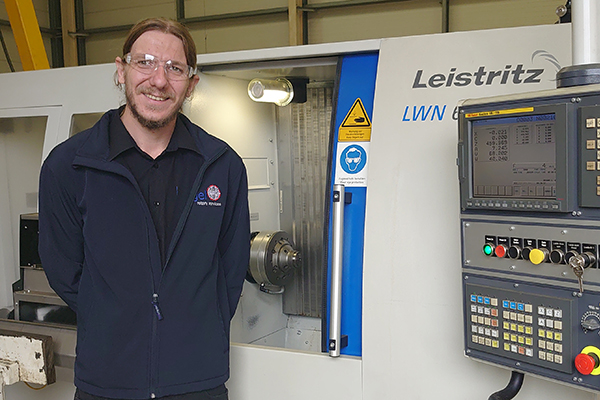 The three-year project builds on established minimum quantity lubricant (MQL) techniques which, instead of flooding the cutting area with coolant, deliver a tiny amount of oil to the cutting zone – typically less than a millilitre a minute. Recent research by the Nuclear AMRC has shown that MQL can reduce running costs by up to half and energy use by a fifth. It can also avoid the need to clean the component after machining, and reduce health risks to machine operators.
Effectively delivering such a tiny amount of lubricant isn't simple. Current systems typically use a simple mechanical device known as a Venturi tube to turn the liquid oil into an aerosol. Their performance can suffer from any changes in oil viscosity or temperature, resulting in poor surface finish or contamination of the machined component.
The UltraMQL collaboration focuses on using ultrasonic vibration to create the aerosol, reducing the size of oil droplets by an order of magnitude. This will avoid the effects of oil viscosity, allowing the systems to be used with a much wider range of oils, with a rapid changeover between machining tasks.
"The University of Brighton will develop a new high-precision ultrasonic lubricator, and apply laser and imaging measurement techniques to verify the spray performance against flow rate and droplet size requirements," says Professor Cyril Crua of the University of Brighton's Advanced Engineering Centre. "A finer oil mist with precisely controlled droplet sizes and flow rate will deliver a much more reliable machining lubrication system. This will be achieved using ultrasonic technology, normally found in research grade atomisers, which can be precisely tuned to produce highly repeatable oil droplets."
The proposed technology will create an electrostatic charge in the droplets, which will stop them coalescing and help them adhere to the workpiece.
The system will also use smart sensors including acoustic and visual monitoring, allowing the machine operator to remotely monitor key process parameters in real time, and enabling a digital twin of the machining platform.
"Bloc Digital are delighted to bring digital twin and advanced Industrial Internet of Things data visualisation technologies to the UltraMQL team," says Dr Frank McQuade, director of capability at Bloc Digital. "The creation of these next-generation virtual representations of the factory is driving advantages in increased productivity, improved quality and reduced risk within the manufacturing processes and production management.  The remote monitoring, real time interventions and forecasting benefits of digital-twin technologies enables managers and engineers to apply best practices to improve and manage assets in real-time without physical modelling or costly production stoppages."
Following development and testing of the various parts of the project, all the innovative technologies will be integrated into a prototype system for trials at Kugel Rotary's factory.
"We need to bring together expertise in multiple fields to achieve a successful integration," says Dr Agostino Maurotto, technical lead at the Nuclear AMRC. "The UltraMQL consortium is formed of technology leaders who have overlapping knowledge and experience in each others' fields. The synergy of competences will be instrumental in the successful development of a working prototype."