The UK government has confirmed it will directly invest in the development of EDF's nuclear new build project at Sizewell in Suffolk.
As part of a package of energy security measures, the government will spend £679 million to take a 50 per cent stake in Sizewell C during its development phase. This will be the first direct UK government investment in a new nuclear power project since Sizewell B was approved for construction in 1987.
EDF is proposing to build two Framatome EPRs at Sizewell C, in a near-replica of its current new build project at Hinkley Point C. The French group is expected to make a final investment decision in 2023.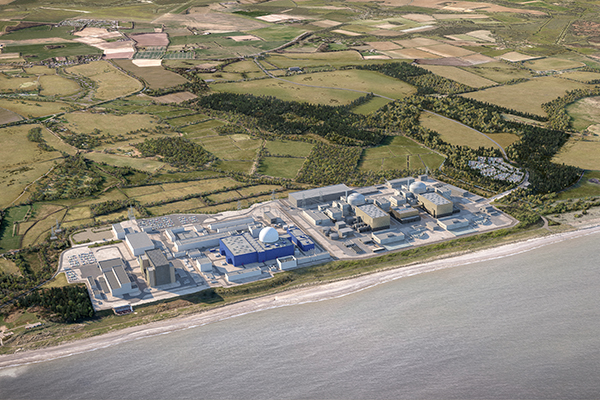 If it goes ahead, EDF will provide additional investment to match the government's stake in the project, and both parties will work together to attract new third-party investment to help finance the project's construction and operation.
Sizewell C will be the first UK nuclear project to use the regulated asset base (RAB) investment model. RAB is designed to provide a more attractive investment profile for major infrastructure projects by reducing project risk for the investor and providing an income stream during construction, and has been used for other major infrastructure projects in the UK including the Thames Tideway Tunnel and London Heathrow Terminal 5.
By cutting the cost of nuclear project finance, RAB is intended to reduce the costs of electricity to consumers, with estimated lifetime savings of at least £30 billion compared with the contracts for difference model used at Hinkley Point C.
The government investment also allows for China General Nuclear's (CGN) exit from the project. CGN held a 20 per cent investment share in Sizewell C, and retains a 33.5 per cent share in Hinkley Point C.
"This is a big vote of confidence in Sizewell C and we are very excited the government is partnering with us to prepare the project for further investment," commented Simone Rossi, CEO of EDF. "Sizewell C will build on the achievements of Hinkley Point C, and replicating its design will provide more certainty over schedule and costs. It will deliver another big boost to jobs and skills in the nuclear industry and provide huge new opportunities for communities in Suffolk. New nuclear will protect Britain from volatile global gas markets and help keep bills under control for the country's homes and businesses."
If approved, Sizewell C is expected to create 10,000 highly skilled jobs and provide reliable, low-carbon, power to the equivalent of 6 million homes for over 50 years. EDF expects to place 70 per cent of the value of the project's construction and operations contracts with the UK supply chain.
In the same statement, the government also confirmed its intention to set up Great British Nuclear as an arm's length body to develop a resilient pipeline of new build projects beyond Sizewell C.