The Inform project aims to develop a range of advanced techniques which could halve the cost and time of manufacturing large complex nuclear components.
The Nuclear AMRC is leading Inform (Intelligent Fixtures for Optimised and Radical Manufacture), working alongside industrial and research partners including Sheffield Forgemasters, MetLase, Cambridge Vacuum Engineering, TWI and the AMRC.
The collaboration is developing an adaptive fixturing system to ease the movement of large parts around a factory, and ensure precision through a range of innovative forging, machining, welding, inspection and assembly processes.
The proposed technology will hold large components while they undergo the full range of manufacturing operations, and facilitate movement between platforms and machines. With sensors linked to actuators and manipulators, the fixture will automatically adjust its grip to minimise distortion during movement and manufacturing.
The project aims to demonstrate the fixturing system and other technologies on large cylindrical parts representing a mid-range reactor pressure vessel.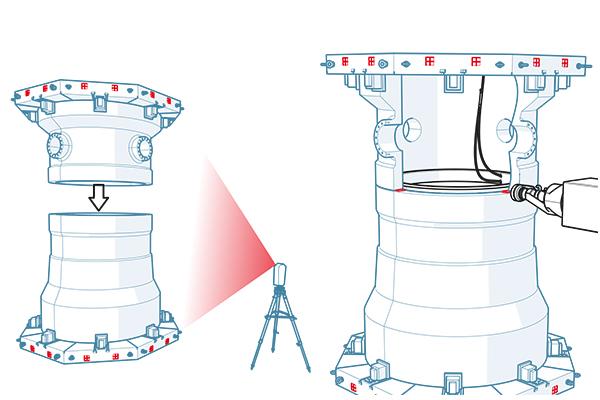 The current phase of the project is supported by around £1.1 million project funding from the Department for Business, Energy & Industry Strategy (BEIS) through the Small Business Research Initiative (SBRI) managed by Innovate UK.
Inform is supported by a range of nuclear industry partners – including reactor developers and operators, and decommissioning site owners – who will ensure the research is addressing industry challenges. The results will be shared with UK industry, including the Fit For Nuclear network of companies from along the supply chain.
Inform and its sister project Simple have been shortlisted for the Manufacturing Technology category of The Engineer magazine's Collaborate to Innovate Awards 2019.
Current research
The project's first phase focuses on developing and demonstrating the viability, at a small scale, of a range of technologies which underpin the Inform concept. These technologies were identified during an initial down-selection stage in 2017.
Project partner Sheffield Forgemasters is leading research into optimising the forging process for pressure vessel sections, from steel-making to machined condition of supply.
The Nuclear AMRC is investigating a variety of optimised machining and metrology techniques which could be applied to these forged sections, including near-net shape machining, advanced roughing algorithms, and supercritical CO2 coolant to increase productivity in final machining.
MetLase, a joint venture between Rolls-Royce and Unipart, is developing a proof-of-concept intelligent fixturing demonstrator for assembling the vessel.
And welding research centre TWI is working with vacuum specialist Cambridge Vacuum Engineering to develop local vacuum electron beam welding technology, to join very thick vessel sections in a single pass without needing a vacuum chamber large enough to contain the entire assembly.
Integrating all the technologies into a single system will be a major challenge, and the project is drawing on the digital expertise of the University of Sheffield AMRC to develop common data standards and software.
The current phase of research runs for 20 months, and is on track to complete at the end of August 2019.
Ultimately, the integrated technologies developed by Inform could cut cost and time for manufacturing large complex nuclear fabrications on a series of dedicated platforms by at least 50 per cent.