The Simple project aims to integrate a range of machining, fabrication and inspection operations onto a single manufacturing platform.
Single-platform manufacturing reduces the need to move large components between work areas, and helps ensure accuracy and quality control throughout the manufacturing process.
As a first step, the Nuclear AMRC led a 20-month collaborative research programme to develop the Industry 4.0 digital manufacturing techniques that will underpin a host of single-platform tools.
To prove the Simple concept, we demonstrated these digital techniques by developing an integrated welding and monitoring tool. Combining a range of sensors and analytical tools with a mechanised arc welding head, this tool can allow automated in-process inspection of welds, improving quality and production efficiency.
The first phase of Simple was supported by £1.35 million funding from the Department for Business, Energy & Industry Strategy (BEIS) as part of the Nuclear Innovation Programme.
Simple is supported by a range of nuclear industry partners to ensure the research is addressing industry challenges. The results are now being shared with the UK supply chain – for more information, download the Simple summary report (5MB pdf) or full Simple technical report (25MB pdf).
Research partners included the University of Sheffield's Enabling Sciences for Intelligent Manufacturing team and Advanced Manufacturing Research Centre, the University of Strathclyde, TWI and Peak NDT.
Simple and its sister project Inform were shortlisted for the Manufacturing Technology category of The Engineer magazine's Collaborate to Innovate Awards 2019.
The Simple vision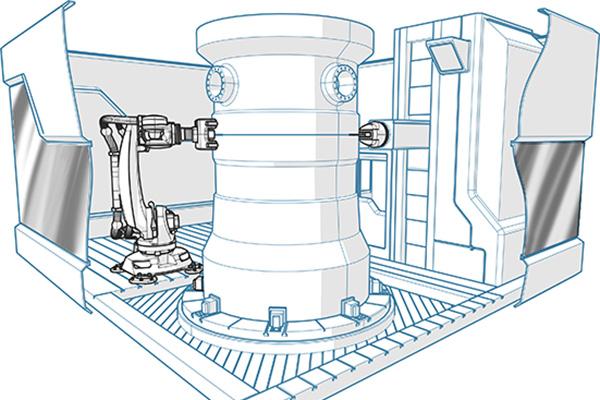 The Simple project aims to significantly improve productivity for large nuclear components, by carrying out the full set of manufacturing operations on a single platform, and automating common tasks such as weld inspection.
Our vision of single-platform manufacturing is focused on reducing the production cost of large complex components measuring at least two metres, including pressure vessel sections, large valve casings and decommissioning waste containers.
The Simple approach could also be used to reduce the risk of manufacturing error and cut cost and time for smaller high-value components for the nuclear sector, and be deployed in other sectors such as energy, oil & gas, marine and aerospace.
Single-platform manufacturing will depend on a comprehensive selection of innovative machining, welding, cladding and inspection tools which can be deployed on a single integrated manufacturing cell, as well as Industry 4.0 digital techniques to analyse and act on large amounts of real-time data.
Our initial studies have shown that the Simple approach to single-platform manufacturing could achieve cost and time savings of at least 50 per cent for a range of large complex fabrications.
First phase
The first phase of research successfully demonstrated an innovative integrated welding and monitoring tool which exploits innovative Industry 4.0 techniques for data management, proving the concept of the Simple vision.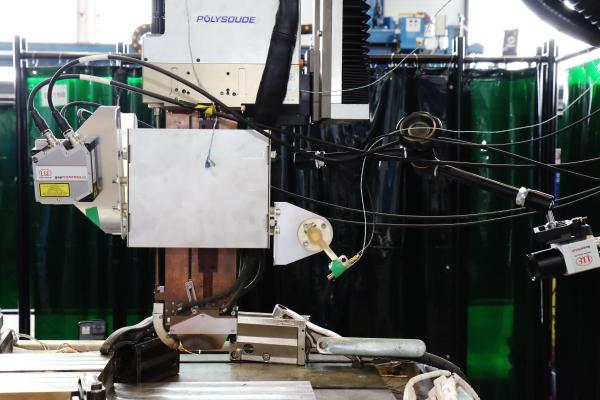 We chose this tool as a technology demonstrator because welding is an extremely data-rich process, including visual and audio data. If digital manufacturing techniques can successfully collect and analyse synchronised data from welding, then other processes or sensor combinations will present few challenges.
In-process monitoring of welding can also significantly improve productivity, by mitigating the need for repeated non-destructive evaluation between weld passes. This will reduce the time required for a complete thick-section weld while maintaining quality and recording a detailed history of the weld process.
The 20-month first phase of the Simple programme started in January 2018, and completed on schedule in August 2019.
Following initial work including process selection, systems engineering and sensor development, we started trials of individual sensors in June 2018, using a Polysoude narrow-groove welding torch at the Nuclear AMRC in Rotherham. We started with single bead welds, moving on to full-depth welds by the end of the year.
Trials continued through the first half of 2019, combining a range of sensors through an innovative data integration platform, and gathering a wealth of data for process optimisation and defect identification. Watch the video below to see the technology in action.
Nuclear AMRC researchers developed a variety of analytical and modelling techniques which can allow full automation of the welding and inspection tool. These include a laser scanner for measuring weld geometry, and tools for acoustic analysis of the welding process, as well as early research into electronic speckle pattern interferometry techniques to characterise residual stress. Our team also developed new tools to predict weld bead geometries using an artificial neural network and machine learning.
Other project partners worked on additional inspection and monitoring technologies.
Physicists from the University of Sheffield's Enabling Sciences for Intelligent Manufacturing team developed a process monitoring system which has been integrated with the Polysoude to record and analyse the welding parameters and optimise the process.
TWI developed a visual inspection system, recording a series of videos of different welding processes to train and test a neural network for real-time monitoring.
The University of Strathclyde and Peak NDT collaborated on a hot ultrasonic inspection system, with a prototype system installed on a welding rig at Strathclyde.
And the University of Sheffield AMRC developed the system to integrate data from all the sensors in real time.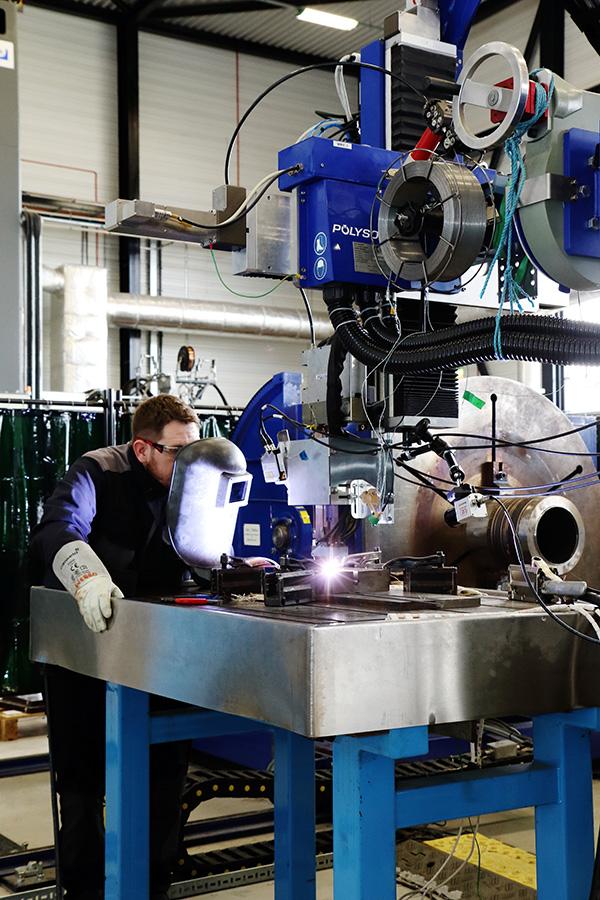 Further work is required to develop the analysis methods to meet the requirements of full autonomy. In the medium term, we propose to develop a compact, fully-integrated welding and inspection tool featuring miniaturised and optimised versions of all the sensor and control technologies. This will be tested on one of our large machining platforms to prove the Simple concept of single-platform manufacturing.
Longer-term development could then integrate this tool with a comprehensive selection of machining, cladding and inspection heads on a single manufacturing platform.
By combining a full range of conventional and advanced techniques onto a single platform, we can achieve the Simple vision of reducing production cost and time for a range of complex fabrications by at least 50 per cent. This will give UK manufacturers a sustainable competitive advantage, and reduce the cost and risk of future nuclear technologies.